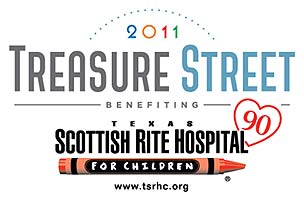 Celebrating 90 Years Of Caring For Children
Texas Scottish Rite Hospital for Children (TSRHC) is excited to host the 16th annual Treasure Street, our signature fundraising event benefiting our patients. This year marks a special milestone, TSRHC is turning 90! We invite you to browse our online auction and participate in the celebration!
Bidding ends October 16th, 10:00 PM CT
Bid Now
About Treasure Street
Treasure Street was established by a group of TSRHC patient families with children affected by Tuberous Sclerosis Complex (TSC). The event has grown from a small gathering of friends and family to more than 1,100 attendees and tremendous community and corporate support. Treasure Street benefits all children treated at the hospital, and continues to provide important funds for the treatment and research of TSC. This year celebrates TSRHC's 90th birthday complete with birthday cake and a special live performance by Lee Ann Womack. For more event details or to purchase tickets, please visit treasurestreet.com, or call the TSRHC Public Relations department at (800) 421-1121 x7656.
Treasure Street 2011 — Thursday, October 13 @ 6:30 PM at Texas Scottish Rite Hospital for Children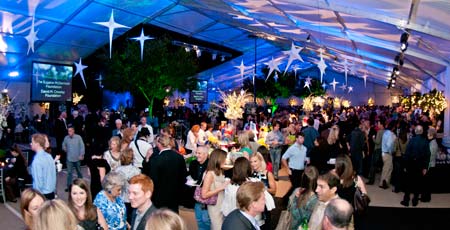 Honorary Event Chairmen
President & Mrs. George W. Bush
Event Chairmen
Carolyn & Karl Rathjen, M.D.
Event Co-Chairmen Elect
Susan & Stephen Butt / Betsy & Richard Eiseman, Jr.
Heritage Auctions is proud to be the official auctioneer of Texas Scottish Rite Hospital for Children's Treasure Street 2011 fundraising event. Texas has greatly benefited from the Hospital's vital contributions to the well-being of our children, and funds raised through the online auction will help continue this important work.
About Texas Scottish Rite Hospital For Children
| | |
| --- | --- |
| Texas Scottish Rite Hospital for Children (TSRHC) was established in 1921 when a group of Texas Masons approached Dallas' first orthopaedic surgeon Dr. W. B. Carrell about caring for children with polio regardless of the family's ability to pay. During its early years, the hospital primarily treated children with polio. However, in the 1950s, the development of the polio vaccine allowed TSRHC to expand its treatment to include a more diverse clinical population with a wide range of orthopaedic conditions. | TSRHC patients on the old hospital grounds, 1930s |
| | |
| --- | --- |
| TSRHC patients Anne, age 7 of Dallas; Zackery, age 5 of Malako"; Maria, age 6 of Plano; Emilio, age 6 of El Paso; and Katy, age 3 of Dallas | Today, in addition to its world recognized pediatric patient care, TSRHC is a teaching hospital with 120 fellows now practicing across the USA and six continents. TSRHC is also a research center. The Sarah M. and Charles E. Seay Center for Musculoskeletal Research is comprised of five Centers of Excellence supported by research divisions and core facilities. For more information visit us at www.tsrhc.org. |
| | |
| --- | --- |
| For 90 years, TSRHC has remained dedicated to the children of Texas and has provided treatment to children regardless of the family's ability to pay. Today, TSRHC is one of the nation's leading pediatric centers for the treatment of orthopaedic conditions, certain related neurological disorders and learning disorders, such as dyslexia. Admission is open to Texas children from birth up to 18 years of age. | Texas Scottish Rite Hospital for Children welcomes its patients and their families with bright colors and a child-friendly atmosphere. |