Search our Archives for press releases from other collectibles:
Press Release - October 8, 2012
Largest Piece Of The Moon Ever Offered, In Heritage Auctions' New York Event, Plus 125 More Meteorites -- Many At No Reserve
Oct. 14 event at The Fletcher-Sinclair Mansion is the largest event ever of its kind; featuring important pieces of the Moon and Mars, meteorites with extraterrestrial gemstones, an otherworldly evocation of Edvard Munch's "The Scream," as well as many specimens with no reserve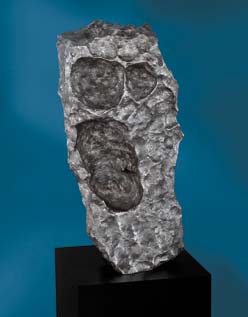 NEW YORK – The sky will be falling Sunday, Oct. 14 at the Fletcher Sinclair Mansion (Ukrainian Institute of America) in New York City when Heritage Auctions — the third largest auction house in the world — offers more than 125 select meteorites, many with museum provenance, in its Natural History Signature® Meteorite Auction, the largest auction of its kind.
A special highlight is a piece of the planet Mars that legendary recording artist Herbie Hancock had in his pocket during a gala performance at The Kennedy Center last fall for The Thelonious Monk Institute. This bit of Mars – along with Hancock – were embraced by the likes of Jennifer Hudson, Colin Powell, Madeleine Albright and Aretha Franklin, among others. One hundred percent of the auction proceeds of this lot go to The Monk Institute, which is devoted to nurturing musical excellence. Estimate: $6,500+.
Another highlight, the largest slice of the most famous meteorite in the world, the Willamette meteorite at the American Museum of Natural History, is estimated to sell for $85,000+.
"This offering transcends meteorites," said Darryl Pitt, Meteorite Consultant for Heritage Auctions. "It's the Holy Grail for collectors of any stripe; acquiring a notable specimen of a centerpiece exhibit at a major museum is unheard of."
To complement the largest slice of the Willamette, a small partial slice of this famous meteorite is also being offered and carries an estimate of $1,400+
The headliner of this stellar event is a four pound Moon rock — the largest piece of the Moon ever to be auctioned — that is expected to bring $340,000+.
"This Moon rock is worthy of the finest natural history museums in the world," said Pitt. "The 4th largest piece of the Moon that can be privately owned will sell for as little as $228/gram, which includes the buyer's commission— quite inexpensive! Only 135 pounds of the Moon is available to the public and this is a superlative example of some of what is perhaps the rarest naturally occurring substance on Earth."
This auction coincides with the 20th Anniversary of the Peekskill fireball — the most videotaped meteorite descent of all time — which burnished its legacy by smashing a Chevy Malibu in its final act just 50 miles outside of Manhattan. A portion of this renowned meteorite is estimated to sell for $14,000+.
"If you want to experience the marvels of the Earth, go to museums and travel," said Pitt. "If you want to begin to contemplate the marvels of the universe, touch a meteorite."
Additional meteorites, which can be touched, are not limited to:
A naturally sculpted iron meteorite from the Kalahari that is the extraterrestrial evocation of Munch's "The Scream," is estimated to sell for $175,000+.
A large fragment of the Tissint Martian meteorite that fell last year in Morocco, which perfectly fits and locks into the large 1099 gram fragment that is now a centerpiece at the Natural History Museum in London, is estimated to sell for $230,000+. With an unrivaled Earthly provenance, the matching segment to the Natural History Museum is from "the most important meteorite shower in 100 years," said Dr. Caroline Smith of the Natural History Museum.
Originally from the Western Australian Museum in Perth, the most massive slab of a meteorite ever available at auction, a Mundrabillia meteorite the size of a table, three full feet across, is a breathtaking and stunning piece expected to realize $120,000+.
The auction will include a portion of a meteorite that fell in 1492 that was later chained up in a church, specifically so it couldn't fly back into the sky, which comes with British Museum of Natural History provenance. It is estimated at $4,000+.
"The sky will be the limit for this superlative collection of important meteorites on Oct. 14," said Pitt.
Heritage membership
VIEW BENEFITS
Bid online
Reduced auction commissions when you resell your
winnings
Consign now
Cash Advances
More Bidders
Trusted Experts
Over 200,000 Satisfied Consignors Since 1976
Learn about consigning with us
Heritage Auctions takes a personal interest in client success, acting in policy for an absolute positive result and reflects this direct client interest in the quality account services you provide. Evaluation in product placement, optimum exposure and maximum result is more than appreciated in our fast pace world today.
View More Testimonials
HA.com receives more traffic than any other auction house website. (Source: Similarweb.com)